Meet The Power Couple Pioneering The Production Location Rental Industry
It was a typical morning.
I'd rolled out of bed and made my way to the couch. Bones, my once lean now round Chihuahua had nuzzled himself into his usual position on my lap and my husband had just handed me a latte. With my eyes still adjusting to the light of a new day, I opened up my laptop and started to go through my usual morning circulation: Instagram, Facebook, email, Twitter and YouTube. During my scroll through new uploads, I stopped on a Refinery29 'Sweet Digs' video.
What $2,900 Will Get You In L.A.
The thumbnail photo was an attractive couple standing in their open concept living room with lots of natural light and what seemed like lots of space (something us Angelenos know not to take for granted). I clicked and started to watch. Not two minutes in and I knew I had to get in touch with this couple.
Brett and Ashley Nobles weren't just giving a tour of their home in this video, they were also giving a tour of their business. Together they run Your Income Space, a production rental location company where they rent out their home by the hour to the likes of brands and influencers for commercials, photoshoots and even marriage proposals. According to their website, their production spaces have been used by Microsoft, Google, Amazon and Facebook to name a few. Since starting their company, they've expanded it by adding another rental space, investing in real estate back in their home state of Ohio and launching their own online course that educates people who want to take on the production location rental business.
After a quick search I found an email address and quickly shot off an interview request. We scheduled a time to hop on a phone call and I was able to get the skinny on how these two turned a low point in their lives into an opportunity to create the six-figure business of their dreams.
AUDREY: How did the idea to create income from renting out your loft as a production space come about?
ASHLEY: The idea stemmed from a pain point, a place of need. We were very strapped financially and had to think outside of the box and figure out a way to create another stream of income outside of our nine-to-five jobs. There was actually a gap period - this is back in 2015 - where I actually got laid off. So we were down to one income. We had actually just moved out to Los Angeles from Ohio so we hadn't gotten used to our living expenses tripling, and then being cut down to one income was really tough on us. So we buckled down and put our heads together and decided that we needed to find a way to supplement that until I could find another job that was hopefully long term.
We moved from West Hollywood to Downtown and we found the loft that was featured in the Refinery29 video that we're still in to this day. And at the time, there was some overlap with our rent between the two places and I thought: We love this place but there's overlap and we definitely can't swing this. I thought maybe we can put it on Airbnb to recuperate some of that overlap cost and play catch up from there.
Airbnb was going so well that we decided to keep it going. We did Airbnb for maybe three or four months and then our strategy started shifting because we heard about people renting out their space for production. So anything for like a small photoshoot for five to ten people, social media videos all the way up to fashion photoshoots for big major labels, feature films - anything under the sun. We were like, wow. This is obviously the city to do this in. Let's try it out.
We did a ton of research. We found websites and online resources to advertise the space. And then from there we had a very, very, very shoestring budget to decorate the space and curate it to the point where we would actually be able to get it booked by these big names or by any names. From there, we listed in the fall of 2015 on production sites and then it just sort of took off.
At the time we didn't have much experience in any sort of real estate. We didn't have any experience with starting our own business. And we thought to ourselves: You know what, if we can make an extra $2,000 a month we'll be happy. This will really help us out and will ease a lot of the burden that we're feeling from my job layoff. In the first five months we worked our way to making about $10,000 just from our apartment. From that point our eyes were completely open and we had a new lease on the potential of this business, the potential of the industry and really the fact that this was no longer a side hustle if we really buckled down and we could really make this a big thing.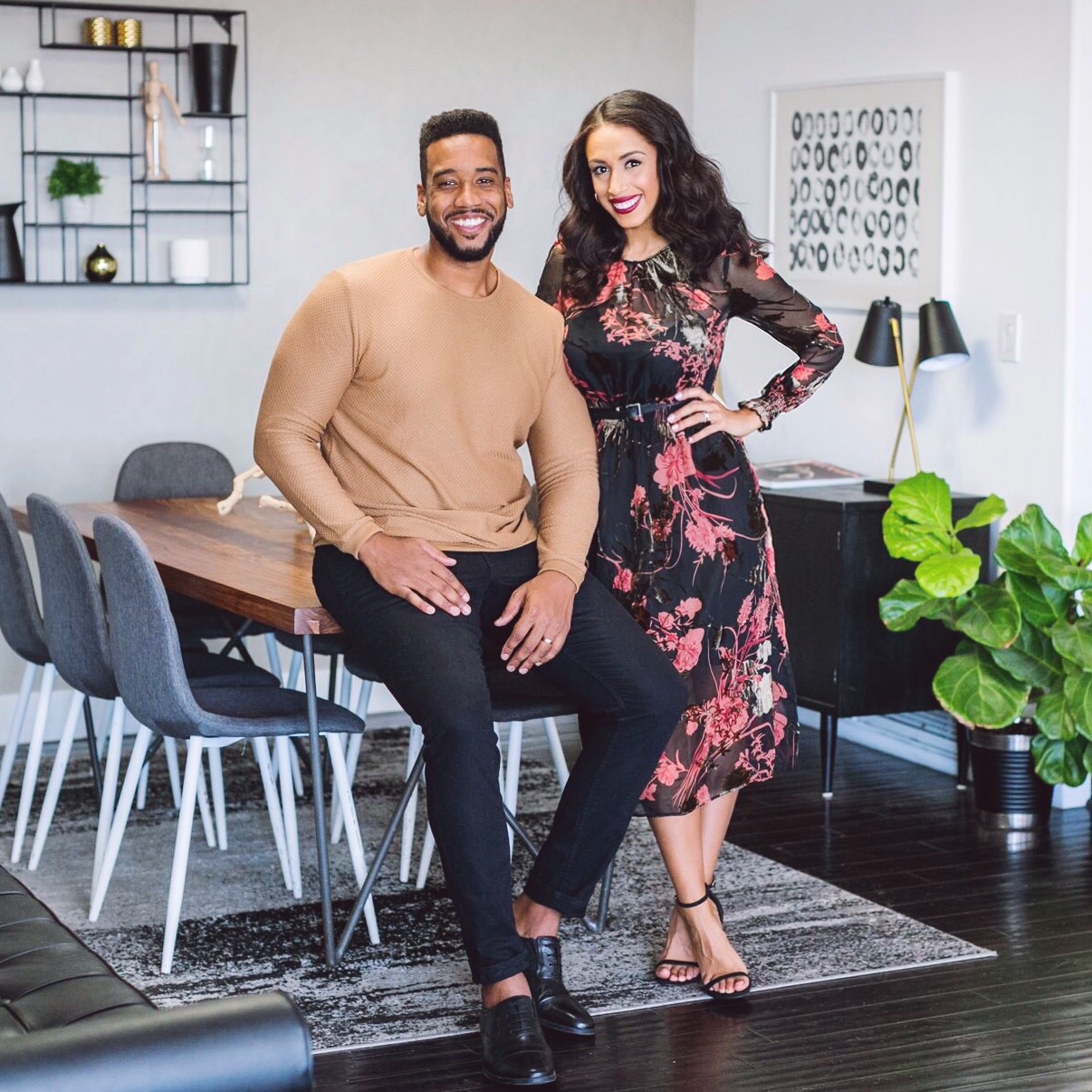 In the first five months we worked our way to making about $10,000 just from our apartment.
Within that first year, I decided to focus on the business full-time, Brett was still working. From there we kept it going and it's been three years. We've had over 300 productions between spaces (we opened up another space). Some months we average anywhere from $10,000 to $40,000 just from our production rental business. It's really taken off and now we have a new business where we essentially teach people how to do exactly what we do because obviously it's really such an amazing opportunity, you just have to know how to do it and do it correctly.
To this day we're still like, "Is this real? Did we really just do this?" We're still just as excited as we first were.
AUDREY: You mention not having any experience in this particular business, what did you and Brett do before?
BRETT: I am a CPA by trade so I spent that last ten years in accounting, consulting, working for banks and accounting firms. Ashley was in sales. She was a manager and director of sales for a number of different companies in Ohio and here in LA. Prior to doing this business, we never had to do anything entrepreneurial. We were your traditional nine-to-five workers. This kind of shifted our whole mindset on what's possible and the income potential. After Ashley went full-time with it, we got so busy and started to grow so much that I actually had to leave my job to go full-time to help manage the business; and that continued to grow with the teaching side of things. Now we're full-time entrepreneurs and we do some real estate investments as well. We shifted from that corporate environment to that full entrepreneurial environment for both of us.
AUDREY: How have you adjusted to entrepreneurship?
ASHLEY: I think for us it goes up and down so much. I feel like there's less structure that you can sort of fall into. You have to create that structure yourself. So for both of us that's been one of the biggest challenges is creating structure to where we're still effective and efficient with our time management and getting stuff knocked out. Some days it feels like there's not much to get done it feels kind of like, "Gosh, should we be working more? Doing more? Is it OK that we're going out to get coffee in the middle of a Tuesday?"
Connecting with something that you're passionate about and is truly yours - it's like a complete one-eighty. Like night and day contrast to working for someone else, making them money, working on their dream essentially. When you can actually connect with something you built from scratch, there's no words to really describe it. There have been plenty of times where we've had to stay up for forty-eight hours straight to make sure we hit a launch correctly or we've got some work done for certain deadlines. Even in those struggle moments it feels different. It doesn't feel as stressful. It feels like I'm getting done what I need to get done. It's really fulfilling.
BRETT: You lose track of time in a good way. You don't have your day confined to that nine-to-five time period where you're just looking at your watch and waiting for the day to be over. You're kind of just responding to the business as it flows. It's so intertwined with your regular life that you don't even notice what's work and what's personal. It just flows together. Ultimately, we may work more hours, we do have to get that structure. But we do enjoy it much more and we feel much more fulfilled not having to work for somebody else.
AUDREY: What's the real estate connection to renting out space as opposed to full-time tenants?
BRETT: They're kind of two separate concepts. The daytime rentals what we like to call meetings, events, productions. They happen during the day, they're not overnights. But they're very similar to overnights. You don't need to have a big real estate background. It's more about taking wherever you're already living and maximizing that as an income stream or business.
ASHLEY: And that includes rentals. We don't actually own any of the spaces we utilize for our daytime production location rental business. But we basically, what we teach, we show whether you own your space, rent your space or work in a space that you have access to you can create an income stream. On the real estate side, that's a separate business where we invest in real estate in Ohio. We've been able to invest money into that business thanks to the success of our daytime rental business.
As far as having background in real estate, it's not totally necessary. You really just have to have a good space. You have to know how to curate it to where people are gonna want to book it. And then from there, you have to be organized, have great communication and know where to go with the flow of the market.
AUDREY: Since you rent your places and are making income off of those space, is there anything you had to do with the landlord or the building? What's the process for someone looking to do what you do?
ASHLEY: We break this down in our course and talk about how you want to do your research, you want to make sure you vet everything legally and correctly. You never want to land yourself in hot water. You need to be strategic, you need to be savvy with how you move and navigate this business.
From the rental side, if you're a typical monthly lease tenant, it's important to be open and honest with your landlord. Some landlords are super fine and may not have any issues with it. Some buildings, especially in LA, you may be dealing with a homeowner's association or the overall property management company or whoever owns it. So sometimes there is some red tape that you have to learn how to navigate. We definitely advise, and we teach this in the course, how to have that conversation and how to negotiate with them. If you get push back, maybe you work out some sort of split with them and see if they can get a small percentage that might incentivize them to permit you to do so. That's extra income for them. No one is in the business of turning down money usually. Sometimes they don't even want a split. They just want to make sure the property is taken care of.
AUDREY: You created an online course for people who are interested in daytime rentals, can you share more about that?
ASHLEY: We have a full blown online course, it's five units. It's our introductory course on how to break into this business from start to finish. We kind of consider it a business in a box in a way because it shows you how to scope out the right spaces, pick the right spaces, how to curate the space to make it marketable, how to determine the value of the space, what you need to look for when shopping around, and what we just talked about with negotiating with your landlord. It pretty much walks you through all of the marketing principles of how to get it out there, how to start your own website, all the different online resources available to people who are looking to advertise their space for free. And then how to become a super host which breaks down how to become a powerhouse and get those big brands that want to book your spaces and pay you thousands of dollars to do so just for eight or twelve hours of your time.
And then ongoing business management concepts. Basically all the backend administrative and paperwork stuff that no entrepreneur wants to deal with but has to keep things clean and organized. We pretty much teach it all.
Those lessons we're learning through business and working together really helps translate over to our relationship and helps our relationship grow as well.
AUDREY: As a couple who lives and works together - what's that like for you? Is that something you ever imagined for yourselves and what learnings can you share for other couples interested in working together?
ASHLEY: (Laughing) We get this question a lot. It feels like we spend every waking moment together which we do. We work together, we spend our downtime together, we're best friends and we're also married. I think it's important to know how to separate those because there can be lots of crossover which can create friction and each of those different relationships. I think one of the main things we realize is how to separate and take breaks when we need it. What I learned about Brett professionally being his business partner, a lot of his strengths he responds to and vice versa, a lot of the things he's learning about me. Those lessons we're learning through business and working together really helps translate over to our relationship and helps our relationship grow as well.
BRETT: Number one, you just have to like who you're with a lot. I'm not sure people do all the time and I know we do and that helps us a lot. We work well together because we have a yin and yang skillset. Where I'm weak, Ashley's strong and vice versa - so that really helps us.
AUDREY: Ashley, you mentioned being laid off and I always tell people that this is an opportunity for magic to happen and it sounds like this is when the magic happened for you. For anyone in a similar situation, what advice would you give?
ASHLEY: I think a lot of it has to do with seeing the lay off as an opportunity and not as a negative. It might sound cliche, but the more positively you spin a situation determines the outcome long term. Seeing it as an opportunity to start something you've always secretly wanted to do. Usually when you're in a really tough spot that pain can propel you into a new idea, a new concept that you may not have been open minded to before. It's opened me up to taking more calculated risks. I would say more than anything, bet on yourself and see this as an opportunity rather than a negative thing that happened to you.